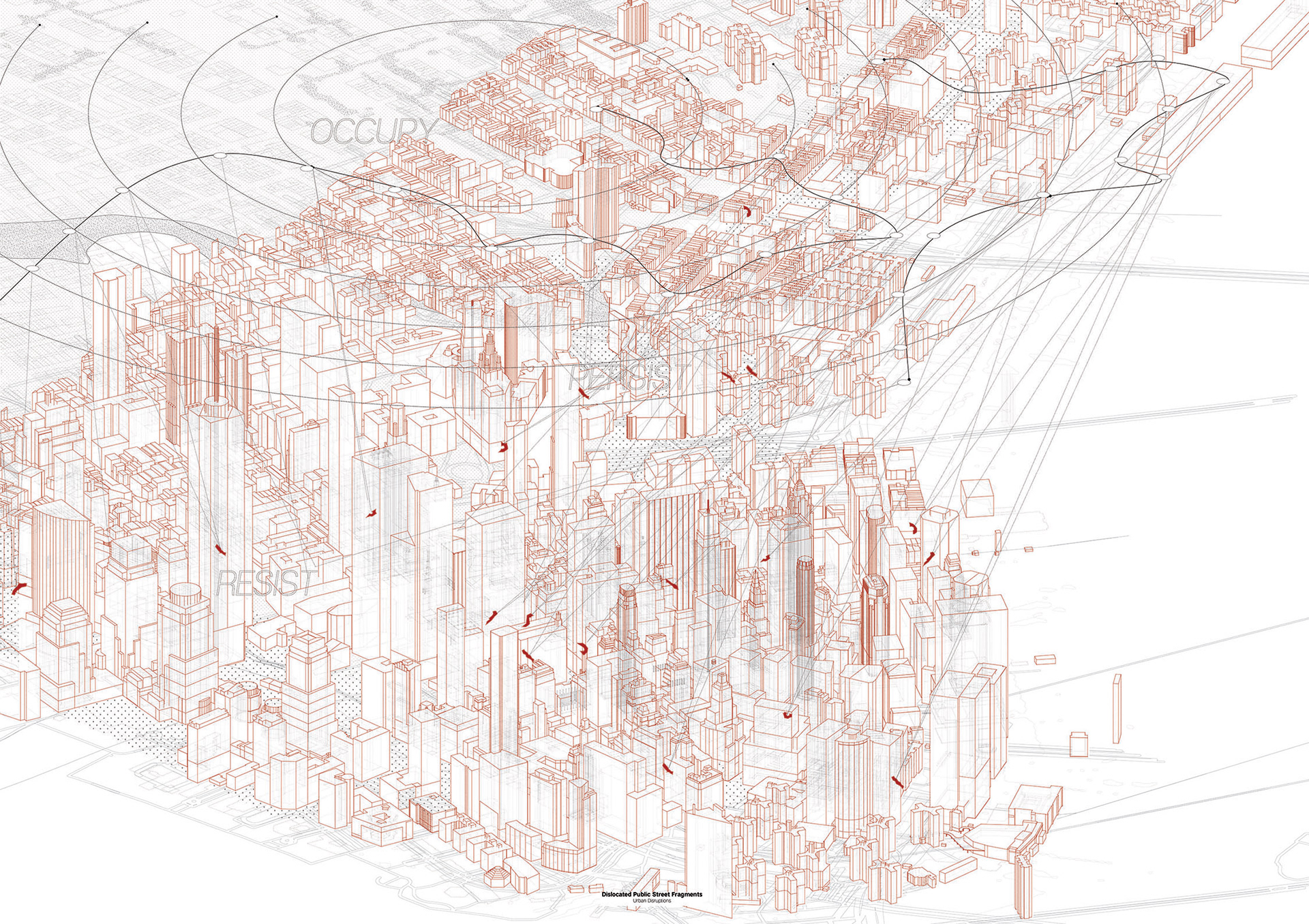 The proposal is a reaction to the dislocated public condition of New York City. It is a process of assembly - that establishes a civic platform. A gathering space for relocating displaced communities of Manhattan's Lower East Side. A physical accumulation of both the native material extracts of the city and of its people. Composed of actions, reactions and interactions that occupy, and aggregate. 
The city as a formwork is a process that aims to use architectural construction as a method of activism. By creating an in-situ action of a temporary occupation of the street. Creating a frame and pouring into it as a mould that is left for a few hours. This extraction is done on a multitude of sites - at the junctions of a privately owned public spaces and streetscapes. Focusing on recasting the asphalt ground beneath our feet. The action simultaneously stimulates the participation of strangers before being peeled off of the earth and driven to the Bowery. The physical extract is then folded onto itself to be recast with black asphalts, concretes, and aggregates - producing a large discrete spatial extracts. A gesture of the city occupying itself and using casting -a process deeply rooted in Manhattan's past of the production of urban space having the largest amount of cast iron architecture in the world.
The aggregation of the street extracts are primitively stacked on a landscape that organizes them encircling around a concave center and creates an assemblage of many smallers complex spaces. Once the first extract arrives the assembly begins. From the mixing of black concrete to the painting of road lines together- all become moments of interaction. Forming a horizontal building in a site of verticality - breaking urban typologies. Just as barricades - an activist strategy that creates a dense separation of the interior from its surroundings - adding up over time and reinforcing the identity of a collective A self contained space that is invisible from the surroundings but creates fractured views looking from inside out. And having the spatiality of a concentric space with multiple levels and discrete elements that feed into the larger space. Enhancing the tactile connection of our bodies to the physical surroundings - to the grains of sand - the curb edges -the crude imperfections.Promoting a corporeal use of ubiquitous objects and materials .
A centralization of the decentralized street grid. The rough surface of the space is an experimental framework to be occupied created by the accumulation of materials and people in a process that reinforces their ownership of the space - the ownership of the city by its inhabitants. And the role of the city continues to be an endless process of action, reaction and interaction and architecture becomes a disruptive activism. Sitting together on their shared terrain - while the black asphalt cracks in the cold and melts into a glutinous heap in the heat. Becoming a crude disruption itself.